Este evento ha finalizado.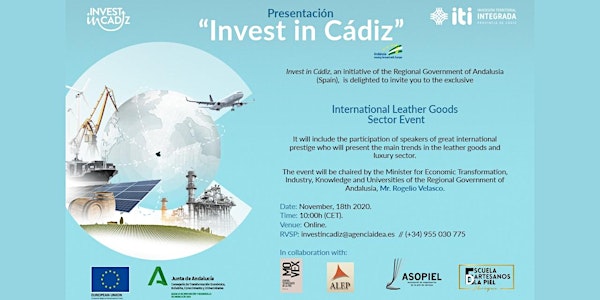 International Leather Goods Sector Event
International Event of the Leather Goods Sector
Acerca de este evento
Within the framework of the Invest in Cádiz initiative, from the Agency of Innovation and Development of Andalusia IDEA of the Regional Government of Andalusia (Junta de Andalucía), in collaboration with the leather goods associations of Ubrique and Prado del Rey, we are pleased to invite you to the international online event of the leather goods sector that will take place on November 18th at 10:00 am (CET).
This event, which will be chaired by Mr. Rogelio Velasco Pérez, Minister for Economic Transformation, Industry, Knowledge and Universities of the Regional Government of Andalusia, will feature the participation of world-class experts in the fashion and luxury sector, who will explain the current trends in relation to different areas such as innovation, sustainability, business and marketing, among others.
Due to the difficult times that are being experienced around the world due to the situation resulting from the COVID-19 pandemic, this public initiative aims to promote the leather goods and fashion sector by discovering new opportunities that allow companies to adapt to these new times and the needs of the major fashion and luxury brands.
You will be able to follow this webinar session in both Spanish and English.
Know more about the Invest in Cádiz initiative by accessing its website: www.investincadiz.com
--------------------------------------------------------------------------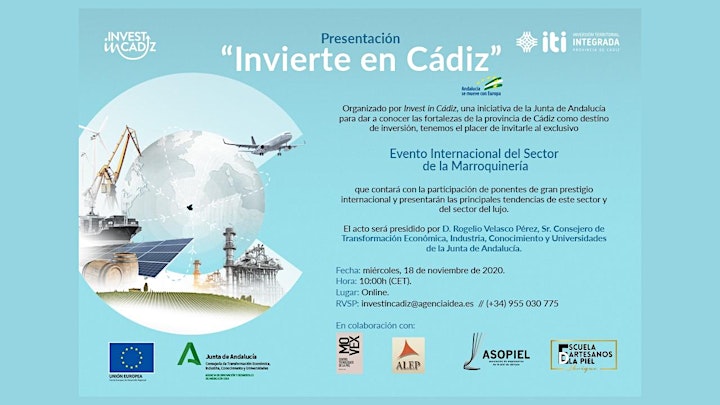 Como parte de la iniciativa Invest in Cádiz, desde la Agencia Innovación y Desarrollo de Andalucía IDEA de la Junta de Andalucía, en colaboración con las asociaciones de marroquinería de Ubrique y Prado del Rey, se tiene el placer de invitarle al evento internacional online del sector de la marroquinería que tendrá lugar el próximo 18 de noviembre a las 10:00 horas (CET).
Este acto, que estará presidido por D. Rogelio Velasco Pérez, Sr. Consejero de Transformación Económica, Industria, Conocimiento y Universidades de la Junta de Andalucía, contará con la participación de expertos de talla mundial en el sector de la moda y el lujo, que expondrán las tendencias actuales en relación a distintos ámbitos como la innovación, sostenibilidad, negocio y marketing, entre otros.
Debido a los duros momentos que se están viviendo en todo el mundo por la situación derivada de la pandemia por COVID-19, a través de esta iniciativa pública se persigue promocionar el sector de la marroquinería y la moda gracias al descubrimiento de nuevas oportunidades que permitan a las empresas adaptarse a estos nuevos tiempos y a las necesidades de las grandes marcas de moda y del lujo.
Podrá seguir este evento tanto en español como en inglés.