IV INNOVATION MEET · SPECIAL EDITION: ROADMAP TO SPACE ENTERPRENEURSHIP
Ha finalizado la venta de entradas
Los registros se han cerrado
Congratulations! Your registration for the IV Innovation Meet · "Special Edition: Roadmap to Space Entrepreneurship". Has been submitted correctly. You will receive a confirmation email shortly. The Innovation Meets Team
Ha finalizado la venta de entradas
Los registros se han cerrado
Congratulations! Your registration for the IV Innovation Meet · "Special Edition: Roadmap to Space Entrepreneurship". Has been submitted correctly. You will receive a confirmation email shortly. The Innovation Meets Team
Descripción
¿Qué son los 'Innovation Meet'?
Se conciben como un ciclo de eventos de innovación orientados a promover buenas prácticas en I+D+i. Así, los Innovation Meet son un lugar para charlar sobre innovación y transferencia con organizaciones líderes donde:
Conocer y compartir buenas prácticas, ideas y tendencias
Aprender de las organizaciones que están escribiendo el futuro de la innovación
---
Special Edition: Roadmap to Space Entrepreneurship
En esta edición especial, Roadmap to Space Entrepreneurship, se mostrarán las piezas clave en el camino de la transferencia tecnológica del sector espacial a otros sectores de aplicación no espacial.
Comprender los retos tecnológicos a los que las entidades líderes en su sector industrial se enfrentan y cómo la tecnología puntera generada en el sector espacial, debido a su carácter transversal, puede afrontar tales retos.
---
Evento dinámico y novedoso: Invertimos el foco
No tratamos de exponer soluciones tecnológicas punteras para quien le pueda interesar. El enfoque es justo el contrario, siguiendo el método PULL, posibilitamos que los asistentes conozcan los retos tecnológicos a los que se enfrentan grandes empresas de diferentes sectores de aplicación, mediante dinámicos ELEVATOR PITCH OF TECH CHALLENGES.
Organizador de IV INNOVATION MEET · SPECIAL EDITION: ROADMAP TO SPACE ENTERPRENEURSHIP

The Blockchain Institute & Technology, BIT, is an academic institution that was born with the purpose of being an international benchmark for training in disruptive technologies.
Our revolutionary study methodology based on virtual presence and practical hands-on in the main projects provide the participant with a transforming immersive experience.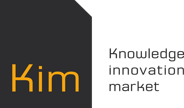 We help companies, research centres, investors and public administrations to improve the return on their R&D investments.
We are members of The Knowledge Agents Alliance, formed by Knowledge Innovation Market (KIM), MRI International and Knowledge Investors (KI).
Since 2016, KIM is the broker of the European Space Agency in Spain. As a broker, KIM identifies the innovations developed by the Spanish space industry and ESA itself, and helps market them in other sectors, thus covering technological challenges in other industries.