Este evento ha finalizado.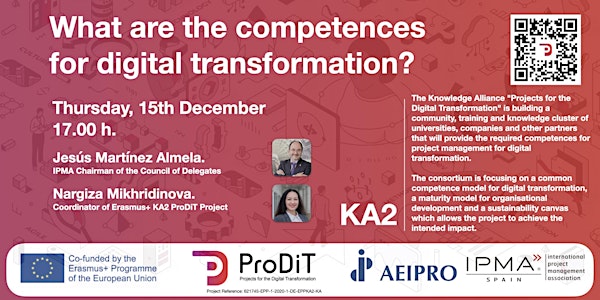 What are the competences for digital transformation?
Jesús Martínez Almela. IPMA Chairman of the Council of Delegates. Nargiza Mikhridinova. Coordinator of Erasmus+ KA2 ProDiT Project
Acerca de este evento
The Knowledge Alliance "Projects for the Digital Transformation" is building a community, training and knowledge cluster of universities, companies and other partners that will provide the required competences for project management for digital transformation. The consortium is focusing on a common competence model for digital transformation, a maturity model for organisational development and a sustainability canvas which allows the project to achieve the intended impact.
The Knowledge Alliance ProDiT delivers three core outcomes to address these issues: First, it develops frameworks and standards that enable the definition of training needs and educational gaps. This is done by the definition of a competence model for digital transformation (CMDT), a digital transformation maturity model (DTMM) for organisations and projects, and a Digital Sustainability Canvas. Second, it creates the learning materials that support lecturers and trainers to develop educational programmes. These programmes fulfil the need of students and professionals to develop their competences. Third, the development with a co-production approach of industry and academia in open communities of practice (OpenCoPs) serves the need for learning materials and courses with a very high relevance and fit to the profesional field.