Este evento ha finalizado.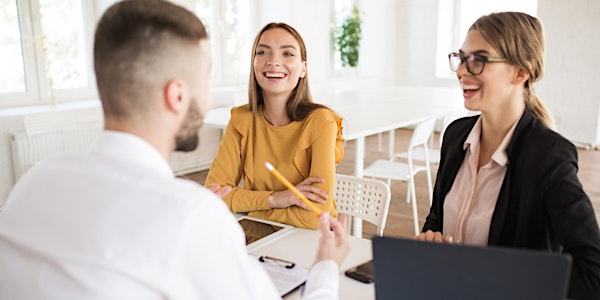 Working abroad: interview tips
Learn about and prepare for the main aspects to consider in job interviews so you can put your best foot forward.
Acerca de este evento
In this activity, we will show you what people value the most when selecting candidates, teach you different aspects of job interviews both in person and online and offer you tools to conduct a personalised self-diagnosis to improve your prospects. In this journey through the main questions asked and the intentions behind them, we will accept that there are no good or bad answers in the process, but just the answer itself.
Sign up for this session, where we will discuss:
→ Types of interviews: individual, group and video conference interviews.
→ Preparing for the interview. Typical questions.
→ Effective verbal and non-verbal communication.
→ Strengths, weaknesses and salary and career expectations.
→ Cross-cutting skills. What they are and typical related questions.
→ How to answer uncomfortable questions assertively.
→ Ending and following up on the interview.
Session led by Arnau Gasull, a coach and trainer in employability and cross-cutting skills specialised in personal development with experience as an international consultant in professional selection and training.

Idioma en què s'impartirà la sessió: anglès
Modalitat: en línia (a través de Zoom)
Durada: 1 h
Important: com a estudiant de la UPF recorda que assistint a 4 activitats pots sol·licitar el reconeixement d'1 crèdit ECTS al teu expedient.
Totes les activitats són susceptibles de ser convalidades per crèdits ECTS, excepte la fira d'ocupació UPFeina, les activitats de sortides professionals, les activitats organitzades en el marc d'una assignatura i les sessions individuals d'orientació professional. Més informació.
També et pot interessar...
Revisem el teu currículum per millorar-lo! (campus del Poblenou)
7 de febrer | De 09.00 a 14.00 h → Inscriu-t'hi
Tips for Successfully Living Across Cultures
13 de febrer | D'11.00 a 12.00 h → Inscriu-t'hi
Revisem el teu currículum per millorar-lo! (campus de la Ciutadella)

15 de febrer | De 09.00 a 14.00 h → Inscriu-t'hi

Sortides Professionals del Grau en Criminologia
16 de febrer | De 12.30 a 14.00 h → Inscriu-t'hi