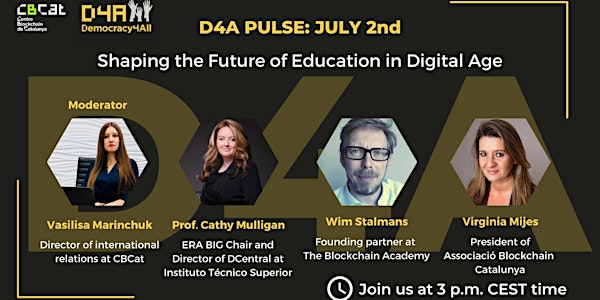 Shaping the future of education in digital age
D4A Pulse is a monthly online webinar series held by Democracy4all Blockchain conference to address most relevant topics in blockchain.
About this event
Join D4A Pulse July edition! This time we are going to discuss how blockchain impacts and transforms the educational system. Our panelists will debate around the actual methodologies for teaching, how those should be changed to fit the rising demand for blockchain experts both tech and non-tech, the increasing interest in educational blockchain related programs in many fields of the economy and other areas, and how institutions are trying to establish the guidelines for an adequate worldwide comprehension of this technology. Learn about how this revolution will affect our educational models and what skills you have to develop to meet the requirements of the tomorrow job market. As usually, we will be having an open discussion together with the leading experts in the field. Listen in and ask your questions!
Our panelists :
Prof. Cathy Mulligan
Wim Stalmans
Virgina Mijes
Host: