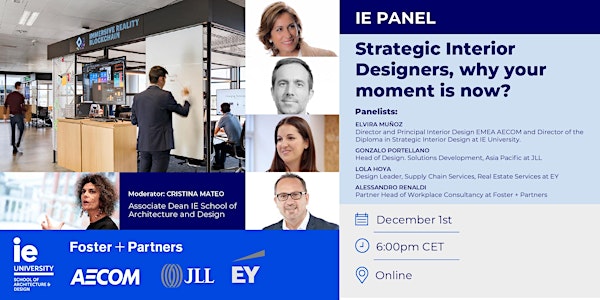 Strategic Interior Designers, Why is your moment NOW?
Join us for this session!
About this event
Strategic interior designers are in high demand in various sectors. Now more than ever before there is a need to rethink our interior spaces and develop strategic solutions for a wide range of functions, including corporate, retail, education, hospitality, mixed uses, and beyond.
Join online to this outstanding panel discussion where our panelists coming from AECOM, Foster-Partners, JLL and EY, moderated by our ViceDean at IE School of Architecture and Design, will talk about the investment planned for next year in hospitality, retail, workplace downsize, main changes-in-use strategies and the importance of having strategic minds in the teams to face these new opportunities of change in the market.
We will also talk about how these unique profiles through strategic design will boost their career adding value to the companies where they are working and to their clients.
By clicking here, we can arrange a phone call to discuss any questions you may have about our Diploma in Strategic Interior Design program at IE School of Architecture and Design.