El mejor homenaje a THE BEATLES llega a la SALA M100, una de las mejores salas de CÓRDOBA, ¡No te lo pierdas! Entradas desde 10€
About this event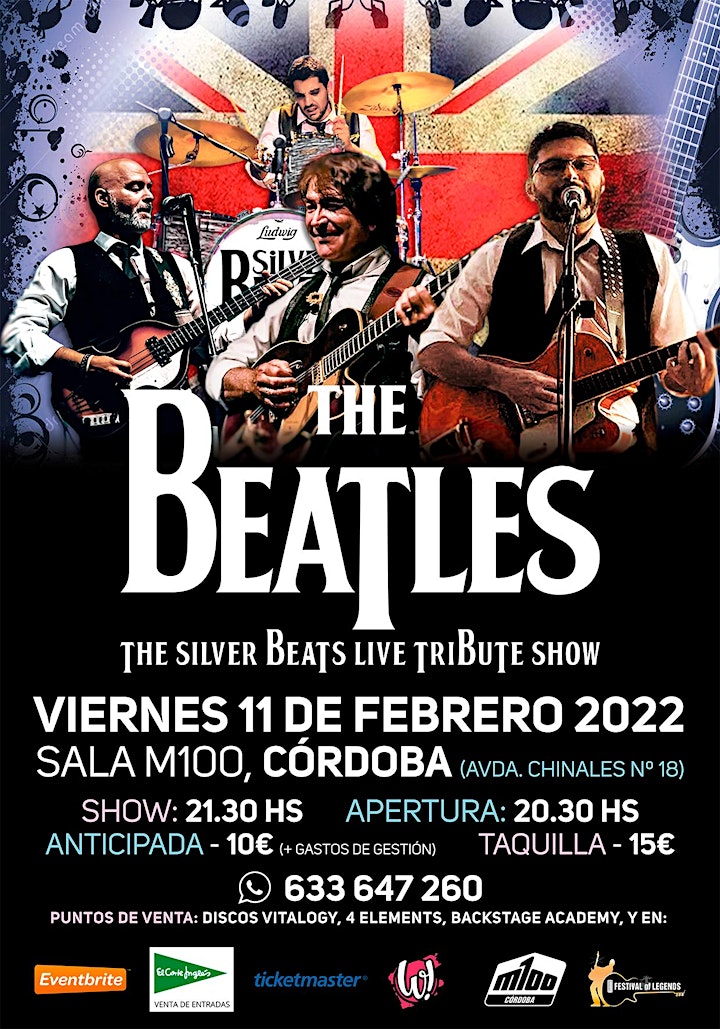 💥 El mejor homenaje a THE BEATLES llega a la SALA M100, una de las mejores salas de CÓRDOBA. Festival of Legends presenta en concierto a los 4 genios de Liverpool de la mano de THE SILVER BEATS el próximo VIERNES 11 de FEBRERO💃🕺
Si tienes ganas de disfrutar de los clásicos de la banda más importante de la historia de la música, no dejes escapar esta oportunidad.
🎟 ¡Hazte ahora con tu entrada! ⬇️ Link de compra
📅 VIERNES, 11 de FEBRERO.
🕑 Apertura de puertas: 20.30 hs | Inicio del show: 21.30 hs.
📍 Sala M100, Córdoba (C/ Chinales 18).
🎟 10€ entrada anticipada (+ gastos de gestión) | 15€ en taquilla.
📲 Entradas disponibles en El Corte Inglés, Eventbrite, Atrápalo, Ticketmaster y Rubens Exchange.
También puedes reservar ahora tu entrada y comprarla en taquilla el día del evento llamando/WhatsApp al 633 647 260.
¡No te lo pierdas! Y, ¡Coméntaselo a tus amig@s! 💃
Disfruta junto a Festival of Legends de los mejores shows tributos de la Costa del Sol ☀🌴
#festivaloflegends #conciertos #tributo #conciertostributo #músicaenvivo #thebeatles #thesilverbeats #salam100 #m100 #córdoba #andalucía #11defebrero
---
💥 The greatest tribute to THE BEATLES is arriving at SALA M100, one of the best halls in CORDOBA. Festival of Legends presents the 4 young lads from Liverpool in concert by THE SILVER BEATS next FRIDAY, FEBRUARY 11💃🕺
If you want to enjoy the greatest hits of the most important band in the history of music, do not let this chance go away.
🎟 Get your ticket now! 🔽 Purchase link.
📅 FRIDAY, FEBRUARY 11. 
🕑 Doors open: 20.30 hs | Showtime: 21.30 hs.
📍 SALA M100, CORDOBA (C/ Chinales 18).
🎟 10€ advance entry (+ administration fees) | 15€ at the box office.
📲 Tickets available at El Corte Inglés, Eventbrite, Atrápalo, Ticketmaster and Rubens Exchange.
You can also reserve your ticket now and buy it at the box office on the day of the event by calling / WhatsApp at 633 647 260.
Do not miss it! And, let your friends know! 💃🏼
Enjoy together with Festival of Legends the best tribute shows on the Costa del Sol ☀🌴
#festivaloflegends #tribute #tributeshows #concerts #livemusic #thebeatles #thesilverbeats #salam100 #m100 #cordoba #andalucia #february11