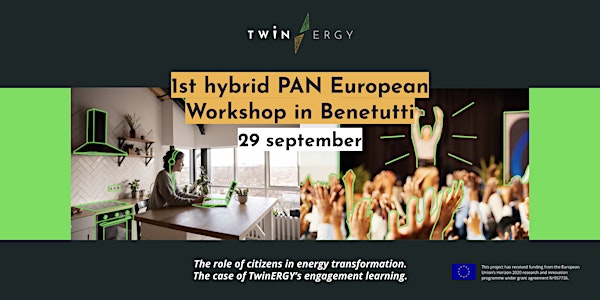 TwinERGY PAN EU Workshop 2022:The role of citizens in energy transformation
The role of citizens in energy transformation. The case of TwinERGY engagement learnings
About this event
The TwinERGY project, funded by the European Union's Horizon 2020 research and innovation programme under grant agreement Nª 957736, together with the Municipality of Benetutti, co-host this event to reflect on the role of citizens in energy projects
TwinERGY is committed to understand and promote citizen participation in energy markets, providing tools and solutions that help them have a more active role, and proving that a better energy ecosystem is possible. It introduces a first of its kind Demand Response Framework, a solution that incorporates digital intelligence so that citizens can actively adapt their consumption to market fluctuations through the help of data and automation.
With the aim of exposing the initial learnings and questions when applying the consumer engagement strategy, collecting good practices and existing gaps, the event will be centred on citizen engagement in the energy system.
The idea will be to get feedback and further knowledge, while enabling conversations between citizens and stakeholders on challenges and benefits of taking an active role in energy management.
Relevant experts of the sector and participants of the 4 project pilots will be invited to collaborate throughout different sessions and discussions held during the workshop. In particular, three energy experts will share their views on community engagement and will lead an open-discussion:
You can check TwinERGY privacy policy here.
About Organizers
KWMC
Civil Engineering Department, UoP
STAM
Ideas for Change