Este evento ha finalizado.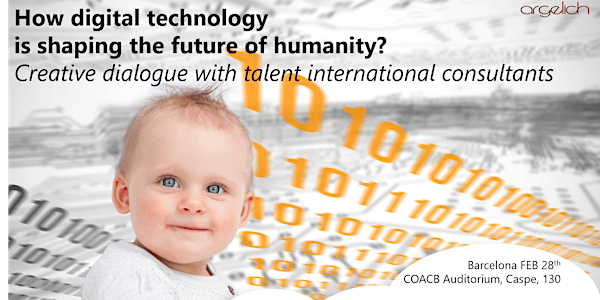 VI Telecom Consultants Day - How communications technology is shaping the future of humanity?
Cuándo y dónde
Ubicación
COACB (Col·legi Oficial d'Agents Comercials de Barcelona), Carrer de Casp 130 08013 Barcelona Spain
Descripción
"How communications technology is shaping the future of humanity?"
Know from a true independent and non-commercial point of view how telecom networks are building the future. How digital transformation is creating new opportunities.
Despite the reactionary and protective movements observed around the World, collaboration, networks and interdependence are essential for wealth creation along the planet.
The event is organized by the Society of Communications Consultants International (http://www.sctcconsultants.org) with the support of Catalan telecom engineers association, COACB and Argelich Networks, member of SCTC
The program of the event is as follows:
4:30 Registration.
5:00 pm Welcome message from SCTC vicepresident and Telecos.cat president.
5.15 Creative Dialogue, moderated by Agustín Argelich, Principal Consultant of Argelich Networks.
With the participation of:
John G. Jung Intelligent Community Forum President (Toronto - Canada)
Tom Brannen SCTC Vice president & Wassaw Consulting president (Atlanta USA)
Martha Buyer Lawyer and Telecom Engineer (New York – USA)
Sean McCarthy Consultant L&M Data Communications (Madrid - Spain). A disruptive approach to Cybersecurity from network perspective
Dave Mailer Director and Principal Consultant, 4C Strategies Ltd, (Leicester – UK)
Larry Treas CEO The Michael Group (Oklahoma – USA)
We will discuss about topics like:

Hackers and US president election.
Using public or private communications servers. Everybody trust in "cloud" services but Hillary had significant problems using it.
How are Intelligent Communities changing our lives?
Are Facebook, LinkedIn, Whatswapp and similar services are replacing traditional corporate communications platforms?
Every year more "traditional" telecom companies are disappearing or merging when everybody is spending more time using electronic communications. It's crazy.
How can we manage the mess of communications channels?
6:15 Debate Questions from the floor.
6:45 Closing message.
7:00 to 8:00 pm Networking Cocktail.